Game: Volar Free Download

Help Volar outrun their past as you jump, smash, and power your way through levels in this one-button platformer that is *not* an autorunner. Explore 5 unique worlds, using collectable masks to ignite, freeze, electrocute, and more. Each level presents a new challenging twist to test your skills!
About This Game
"Volar" puts you in control of the titular raccoon on the run from their past, who's other half commands an army of Nightmares. With gameplay that revolves around using a single button to jump, air dive, and use abilities, Volar is easy to learn but hard to put down.
Explore five unique worlds filled with danger and adventure, and don powerful masks that will grant you the power to ignite, freeze, and electrocute your enemies, among many more abilities! Each level presents a new challenge that will test your skills and keep you on your toes. With cartoony visuals, a simple storyline, and plenty of challenges, can you help Volar overcome their past and move on?
———————————-
FEATURES
———————————-
– Single-button gameplay
– Accessibility options for No Damage and Speed Up/Down Game Speed
– 40 levels in the main game + ???
– Powerful mask abilities
– 5 different worlds to explore
– Many player outfits to choose from
———————————-
DETAILED GAMEPLAY
———————————-
– When Volar is on the ground, an arrow will rotate around them, Hold down spacebar to pause the arrow rotation, then release to jump in that direction. While jumping the air, press spacebar again to air dive. This gives you precise control if you mistimed a jump or are too close to an enemy. If you air dive on top of physics blocks, you will crack/break them.
– While in the air, if Volar is near a ledge, they will automatically ledge hop onto the higher ground. This is useful when almost making a jump.
– Power ups give an extra ability and allow you to take one extra hit of enemy damage. Certain power ups, such as the Fire Mask, will automatically active when making contact with the ground after air diving. The Fire Mask will burn surround wood blocks and enemies. Other power ups, such as the Rocket, are activated when double-tapping while in the air. Power ups are reset once Volar touches the ground again.
– Hearts allow one extra hit from enemy damage.
– Coins are scattered throughout each level. Coins are used to purchase power ups that you've already found during gameplay. Coins can also be used to purchase Outfits which change the look of Volar but do not affect gameplay.
– There is a secret power up unlocked at the very end of the last level.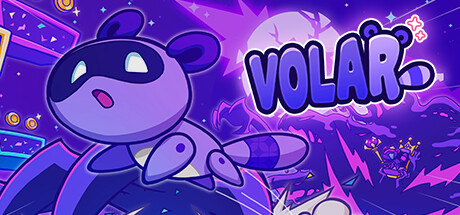 Volar Trailer
System Requirements
Minimum:

Requires a 64-bit processor and operating system
OS: 7
Memory: 1 GB RAM
Recommended:

Requires a 64-bit processor and operating system
Minimum:

Requires a 64-bit processor and operating system
OS: 10.15
Memory: 1 GB RAM
Recommended:

Requires a 64-bit processor and operating system
Free Download Volar Game
Full Game, latest version. Download for Free!