Game: TASUKEMONO Free Download

A new style "strategy-like" puzzle game! Control multiple cute characters and navigate a little girl to the goal! As the girl gets deep into the forests, her secret will be revealed…
About This Game
A new style "strategy-like" puzzle game!
"Tasukemono" is a turn-based puzzle game.
A blind girl lost in the forest is looking for her mother.
Control cute "humanized" animal characters and navigate a human girl to help finding her mother!
This game consists of short multiple stages. You can save and restart at any stage.
Simple and easy playing style. But you will encounter multiple obstacles and enemies and advancing deep into the forest is not a simple task!
How to play


Use the animals' "movement" and "skills" commands to guide the automatically moving girl to the goal. After setting the action of the animal, you can make everyone advances one step simultaneously by executing "advance time" command. You don't have to rush, think each animal's next action very carefully!
Your adventure begins with 2 friendly animals, "Irenu" (dog) and "Kuuma" (bear). As the stages progress, you will meet more unique characters. Become a friend with them, and help the girl together♪

Casual play style
Your progress is autosaved at the beginning of every stage, or you can also save manually during the puzzle mode. Want to retry the current stage? Of course you can do so anytime by selecting "Retry" in option menu!
Gallery
There's a gallery mode. By picking up a piece of paper hidden somewhere in the forest, you can unlock and see special graphics in the gallery mode.

Characters
There in the forest live cute animals and try to help the little human girl! Each has unique character and skills. Let's join the party and experience their adventure together! Be careful, though, not every animal loves human…

Notice
Mild pixel art bloodshed expressions are used. You can switch these expressions on/off from the option. If you turn it off, the bloody expressions are disabled and pop expressions are used instead. Please use it if you don't want see even slightest bloody expressions.

General info
Title: Tasukemono
Genre: Puzzle
Game engine: RPG Maker MV
Play time: 6 ~ 10 hours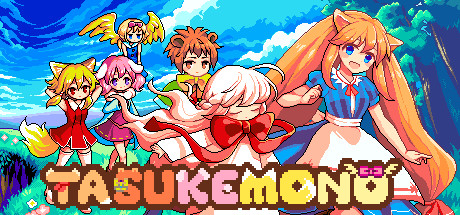 Title: TASUKEMONO
Genre: Casual, Indie, Strategy
Developer:
Publisher:
Release Date: 31 May, 2023
TASUKEMONO Trailer
System Requirements
Minimum:

OS: Windows 7/8/8.1/10 (32bit/64bit)
Storage: 200 MB available space
Minimum:

OS: Mac 0S X 10
Memory: 4 GB RAM
Storage: 200 MB available space
Additional Notes: It will not work on macOS 10.15 and later.
Free Download TASUKEMONO Game
Full Game, latest version. Download for Free!