Game: Space Captain McCallery – Episode 3: The Weaponmaster's Challenge Free Download

Captain McCallery voyages to a planet of prehistoric monsters in search of a reclusive Weaponmaster.
About This Game
The Weaponmaster's Challenge
In the lawless reaches of the galaxy known as the Renegade Sector

Space Pirate Captain McCallery needs a Weaponmaster to round out his new crew, and he knows there's only one man for the job: Mark Two-Blasters. A former member of his crew, Mark Two-Blasters left a year before the rest of the crew mutinied, due to disagreements with some of the other crewmembers. He took a shuttle and flew to the planet Ograr III, one of the most dangerous planets in the sector, to spend time training in isolation.
Ograr III, a planet of prehistoric beasts. Ograr III, a planet of thick forests and high mesas. Ograr III, where Mark Two-Blasters has made his home for the past year.
In this 3D Action-Adventure game, McCallery will have to explore a dangerous world, battle prehistoric monsters, survive off the land, and search for his old ally. With how things left off, Captain McCallery knows that Mark Two-Blasters won't make himself easy to find. If McCallery wants Two-Blasters to rejoin his crew, he will have to prove himself in The Weaponmaster's Challenge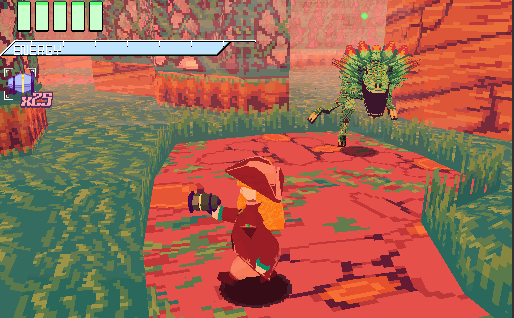 This episode of Space Captain McCallery is a self-contained adventure and can be played without having played the first episode. However, if you want to start at the beginning, the first episode can be found here:
https://store.steampowered.com/app/852900/Space_Captain_McCallery__Episode_1_Crash_Landing/
Explore a Strange Alien World
Playing as Captain McCallery, you will travel through thick forests, rocky cliffs and dark caves. Pay attention to your surroundings, as danger lurks behind every corner. This world is full of hidden paths and secrets to reward exploration.
Consume Alien Plants
The Captain needs to eat to survive! Be on the lookout for plants which you can consume to regain your energy. Food items can have a variety of other effects, ranging from restoring health and increasing your dash length, to hallucinations. Explore your environment to find rare and beneficial items!
Battle Alien Monsters
The game features fast-paced lock-on combat. Dash around your foes, dodging their attacks. Use your trusty laser gun to blast away at your enemies, or conserve your ammo by punching and throwing rocks. You'll be up against a variety of alien beings, including multiple boss fights.
Survival Mode
For those who want an extra challenge, there's Survival Mode. Survival Mode removes checkpoints from the game, and also removes enemy and item respawning. This mode requires caution and careful item-use in order to make it through.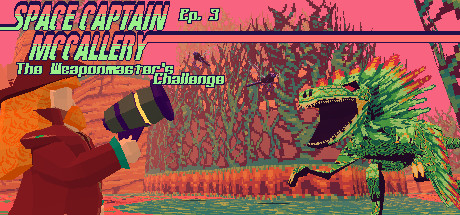 Title: Space Captain McCallery – Episode 3: The Weaponmaster's Challenge
Genre: Action, Adventure, Indie
Developer:
Publisher:
Franchise:
Release Date: 5 Jul, 2022
Space Captain McCallery – Episode 3: The Weaponmaster's Challenge Trailer
System Requirements
Minimum:

OS: Windows 8/Windows 10
Processor: SSE2 instruction set support
Memory: 4 GB RAM
Graphics: DX9 (shader model 3.0) or DX11 with feature level 9.3 capabilities.
Storage: 200 MB available space
Free Download Space Captain McCallery – Episode 3: The Weaponmaster's Challenge Game
Full Game, latest version. Download for Free!