Game: Retro Rocket Raiders Free Download

An old school fast action twin stick shmup, featuring more than 20 weapons that you can equip your ship with and 30 different enemies
About This Game
GOALTo get to Ukraine ASAP, us$1000 will do it
BACKGROUNDVery long and complicated story (involving myself in holland and not doing the right thing in the late 90s), Now relevant to this goal. as soon as russia invaded I had to go, thus went last year in the start of the war, but only for 2 weeks (I helped out with the redcross FWIW) but it still left an emptyness though because of a promise I returned back to catalunya/spain.
REASONS why Im qualified to goI have lived a full life, more than most, (humble brag) yeah .. my body is starting to give out, yet we ask 20 year olds to sacrifice themselves for (on the russian side), nothing for some old geriatric wankers dream in the kremlin of getting the old gang back together, literally W … T … F …
now for me that I must say, personally saddens me. If someone has to die, better me (Im 0 percent suicidal btw .. yes honestly really, I do abhor suicide, so much I want to see ppl return to the moon and go to mars .. but one has to stand for your beliefs, and logically in a fight I'll pick this grizzled ol ' twat over some 20 yr old not to panic when all hell breaks lose )
and if its a case of capturing prisoners, you know I will treat them right and stand up for them, cause I have no hatred for Russians, I love that country .. yes that land has gone down a bad path but dont punish everyone FFS, they are people and related to other people who will be sad with their needless deaths.
$1000us its not much to ask is it? If I can replace some kid from Sumy, then thats a life saved
UPDATE: Whilst I never got the cash from this game, I think my lifetime earnings so far are (just let me check) $9 (though this could be refunded, haha), I managed to get the cash off a friend, so will/am currently in Ukraine so don't expect any updates to this game this year, hopefully back by then to celebrate that event with my young daughter
The game? Glad you stuck around well its ….
A Twin Stick fast Shmup where you can equip your Spaceship with various weapons at once. Be warned even though there are different difficulty levels this game is not easy. You have 2 extra abilities to help you survive. The standard Smartbomb but also the duck function, which puts your spaceship down on the ground, so you can duck under enemies or their bullets, or use it to shoot ground based enemies.
At the end of each stage (which usually take between 30 seconds and 2 minutes) you can use the various gems you've collected to buy weapons or upgrade your ship.
Showing the Duck ability

Lots of different powerups
>20 different weapons you can attach to your ship
Various ways to upgrade your ship
>30 different enemies, including Boss battles, challenging stages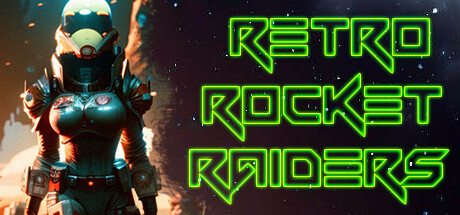 Title: Retro Rocket Raiders
Genre: Action
Developer:
Publisher:
Release Date: 26 May, 2023
Retro Rocket Raiders Trailer
System Requirements
Minimum:

Requires a 64-bit processor and operating system
OS: Windows 10
Processor: Intel i3 or AMD Ryzen 3
Memory: 8 GB RAM
Graphics: Radeon R9 285 / GeForce GTX 950
DirectX: Version 11
Storage: 1 GB available space
Recommended:

Requires a 64-bit processor and operating system
OS: Windows 10
Processor: Intel i5 or AMD Ryzen 5
Graphics: NVIDIA GeForce GTX 1050
DirectX: Version 11
Storage: 1 GB available space
Free Download Retro Rocket Raiders Game
Full Game, latest version. Download for Free!