Game: Real Zombie War Simulator Free Download

Destroy all zombies with sniper or other gun in this zombie game.
About This Game
The war game provides you with the mission to destroy zombies and become a professional shooter. Sniper game and sniper hunter, which shows the targets and wants the target to be lowered, improve their aiming skills. Sniper hunter and awp sniper players, who plan their attack routes, are testing their skills.
Awp sniper and zombie hunter players shooting from long distances must eliminate all zombies with their sniper rifles. The largest of its kind, gun games, and zombie hunter offer various weapons and items in-game.
It is among the zombie and zombie war shooting-themed games that offer simple tasks. With zombie hunter and war games, which offer every possible zombie scenario, a single target or a large enemy cluster is fired. Even those who are not good shooters improve their aiming skills with zombie war and war simulators. War games, which complicate the game with circulating targets, offer fun moments to the players.
Zombie game and war simulator players, who try to predict what will happen in a few seconds, aim there. In most sniper game games, hitting the target is done by directing. Sniper 3d players, who have mastered the prediction of the target's movement, complete the missions.
In the beginning, war simulator players are asked to destroy all nearby zombies. It destroys mass-moving targets with a bomb for the AWP sniper weapon containing moving targets and others. Awp game and gun games, which also offer a story mode, have been designed for you with every detail in mind. The zombie game zombie hunter, about a zombie invasion in a forest, enables the player to be a good assassin.
Offering customized weapons, zombie war allows changing four different weapons for close ranges. War games and war simulator, which are fun games, increase their player base daily. Sniper game and sniper 3d, which allows players to practice for the worst scenarios, enable players to prepare for the zombie apocalypse.
Players should use their best weapons and destroy all zombies in the sniper hunter and war simulator. As the player progresses, war game targets get harder. Exciting
awp game and gun games are almost a challenge for the most talented people. The zombie game and zombie hunter players, who choose long-range weapons, open fire on each zombie from afar.
In the beginning, the only thing zombie and war game players need is sensitivity. War simulator players who want to stop zombies pull the trigger at the right time. Gunfight and sniper 3d players find the target of each mission and are in the best position to shoot.
Graphically rich sniper hunter and zombie games are designed with all the details to make the bullets hit the target realistically. Awp sniper and sniper 3d players who shoot correctly destroy the enemies. After each award is received, the levels get more complicated in gun games and zombie games. For the players to reach their goals quickly, the beginner levels of zombie hunter and zombie war are designed as easy modes.
Offering fun based on dynamic tours, war games, and gun game improve aiming skills with simple controls. Sniper game and sniper 3d, a candidate to be one of the best zombie shooting games ever, is about saving humanity. Sniper hunter and gun fight players are tasked with neutralizing all opponents at once and try to destroy all zombies with their sniper rifles.
Awp sniper and awp game players are fighting with zombie hordes, trying to reach the highest possible score. Fire and explosions seem realistic to gun games and zombie game players. Zombie hunters and zombie war players, who take their weapons, try to destroy all zombies.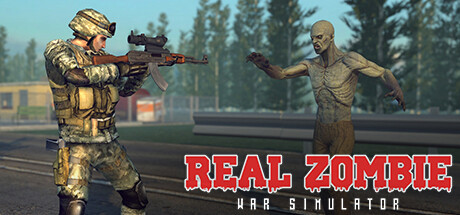 Real Zombie War Simulator Trailer
System Requirements
Minimum:

OS: Windows 8
Processor: Intel i5-2550K, 3.4 GHz
Memory: 2 GB RAM
Graphics: GeForce GTX 670 / Radeon HD 7950
Storage: 450 MB available space
Recommended:

OS: Windows 10 x64
Processor: Intel Core i7-3770, 3.4 GHz
Memory: 4 GB RAM
Graphics: GeForce GTX 970 or GeForce GTX 1060 / Radeon R9 290X or Radeon RX 480
Storage: 450 MB available space
Free Download Real Zombie War Simulator Game
Full Game, latest version. Download for Free!