Game: Ravva and the Phantom Library Free Download

Escape the Phantom Library! Embark into worlds of fantastic books haunted by dangerous ghosts, but you're not alone! Join Ravva and 4 unusual companions in this pixel-art platformer in cute dark-fantasy visuals! Can you face this challenge?
About This Game
Escape this nightmare!
Ravva and the Phantom Library is a pixel-art platformer adventure where you play as a young summoner! Armed with powerful companions who hold special powers, your goal is to escape the Phantom Library by exploring the worlds within those haunted books!

Story
Our hero, Ravva, is a little owl who can do a special kind of magic: summoning. Four companions are available on the journey, each one with a specific power. Blue, the water drop, is capable of freezing and destroying hazards on the way. Yellow, the one who sees all, can reveal invisible secrets all across the stages. Green, the explosive head, says it all! Their power blows away every enemy in a radius. And last, Red, the horned minion, can shoot blades upwards, allowing Ravva to hit targets beyond their reach.
The Phantom Library is a building lost in time, wandering the world in search of something. On their shelves, are books that tell fantastic tales never seen before. Some of them go even further by transporting Ravva inside fantasy worlds! They are heavily haunted, so danger lurks in every corner of each of these book worlds our hero will face. They must defeat the master of every book before facing the true master of the library!
Features
The game includes 7 fully playable stages, each one with unique mechanics and bosses who will challenge the player. At the start of a new game, it is possible to choose between 3 difficulties: Easy, Normal and Master. The first is easier by having more health available, enemies dealing less damage and the main weapon's power-up is never lost upon hit. The Normal difficulty is the regular adventure with balanced encounters and challenges. The Master difficulty is for hardcore players who want to be strongly challenged, it has no checkpoints and no health items. Falling during a boss fight will take you back to the beginning!
The stages can be accessed in any order and be repeated if the players wish to. In each stage, you have the option to complete it beyond defeating the final boss. These little tasks consist in getting all coins, finding all the secrets, revealing and destroying all fake blocks and defeating all enemies. Those are not only interesting for completionists players, but it also reveals a secret ending if all stages are 100% completed.
The game is speed-running friendly! Players can activate the "Speedrunning mode"! It will automatically skip all cutscenes and will place a timer for the player.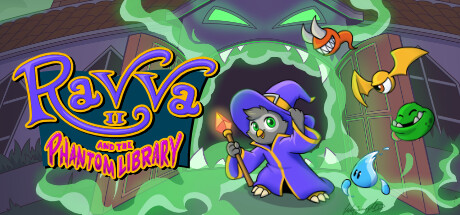 Ravva and the Phantom Library Trailer
System Requirements
Minimum:

Requires a 64-bit processor and operating system
OS: Windows 7
Processor: 2.0 GHz
Memory: 2 GB RAM
Graphics: 256MB (with Pixel Shadder support)
Storage: 500 MB available space
Recommended:

Requires a 64-bit processor and operating system
Free Download Ravva and the Phantom Library Game
Full Game, latest version. Download for Free!