Game: Puzzle Playing Cards Free Download

Join the captivating world of Puzzle Playing Cards, a strategic tabletop card game! Prove your card-matching prowess and challenge opponents to be the first to call Puzzle Playing Cards. Embrace variety by tweaking lobby settings and enjoy endless hours of entertaining gameplay!
About This Game
Welcome to Puzzle Playing Cards, an immersive and strategic tabletop card game that brings an all-new interactive gameplay experience to your screen! Embark on a thrilling journey of card-matching challenges and competitive fun, with multiple ways to play and customizable lobby settings ensuring no two matches ever feel the same.
The objective of Puzzle Playing Cards is simple yet engaging: score the most points by skillfully matching 3 or 4 cards of the same set. This exciting twist adds a strategic layer to the gameplay, as you race against other players to call "Puzzle Playing Cards" and secure your position on the coveted scoreboard.
What sets Puzzle Playing Cards apart is its commitment to involving the community right from the start. Launched in early access, the game eagerly awaits valuable feedback from players regarding its gameplay mechanics and features. The developers at ThePopBox Game Studios plan to utilize this input to improve the game continuously and create an unforgettable gaming experience for all.
Currently in early beta, Puzzle Playing Cards already offers a diverse range of features, including one map, 1-4 player lobbies, online matchmaking, and 14 achievements to strive for. The in-game chat system keeps the communication flowing, enhancing the social aspect of the game.
As the game progresses towards its full version, players can look forward to exciting updates and expansions. The developers aim to revisit menus and other game aspects, refining the overall experience. Potential future updates include the introduction of marketable items, a ranking system, new achievements, in-game character customization, and emotes, as well as a new chat system.
Puzzle Playing Cards is built to cater to both casual players and avid card game enthusiasts. Its easy-to-learn mechanics make it accessible to everyone, while the strategic depth provides ample room for skillful gameplay and competitive edge. The global leaderboards add an extra layer of challenge, where you can compete against formidable opponents from around the world.
If you're looking for a card game that evolves with your feedback and promises an exciting future, Puzzle Playing Cards is the one to watch out for! The developers' commitment to community engagement and their vision for continuous improvements guarantee an ever-evolving and captivating experience. Get ready to dive into the world of Puzzle Playing Cards and be part of shaping its journey towards becoming a card game classic.s!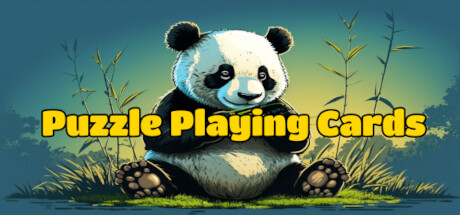 Title: Puzzle Playing Cards
Genre: Action, Casual, Strategy, Early Access
Developer:
Publisher:
Release Date: 29 Jun, 2023
Early Access Release Date: 29 Jun, 2023
Puzzle Playing Cards Trailer
System Requirements
Minimum:

OS: Windows 10 or Windows 11
Processor: Intel Core i3
Memory: 4 GB RAM
Graphics: NVIDIA GeForce GTS 450
Storage: 3 GB available space
Sound Card: On Board
Recommended:

OS: Windows 10 or Windows 11
Processor: Intel Core i5
Memory: 4 GB RAM
Graphics: NVIDIA GTX 560
Storage: 3 GB available space
Sound Card: On Board
Free Download Puzzle Playing Cards Game
Full Game, latest version. Download for Free!