Game: PREDATOR AND WRECK Free Download

Test your mettle with the award-winning stealth horror/sci-fi game PREDATOR AND WRECK. Keep your eyes and ears open, and be on the lookout for the strange, mutating, man-eating life form stalking the space station while you attempt to make your escape and unravel a mystery.
About This Game
PREDATOR AND WRECK, a stealth horror/sci-fi hybrid game that received the User's Choice Award at a student game competition in Japan.
The English version was released on October 24, 2022 !
For the first time this game can be played in English!
(Only the Japanese version was released in May.)
The story begins when you are sent to explore a space station, where an unknown, mutating life form roams the eerie corridors. Listen to its footsteps and groans to keep yourself hidden from this unknown being and escape from the space station alive!
Think you can just fight it off with weapons? You do not have anything on you to attack the mutant. PREDATOR AND WRECK drops you into the stillness of space with nothing more than your senses and wits! Feel the fear and adrenaline as you sneak around defenseless, trying to outmaneuver the unknown creature!
(The update is based on the Nintendo Switch ver. The game balance, as well as some of the effects have been updated for an even better experience)
■ Story
After receiving a distress signal from a space station, you head over to investigate a mysterious explosion and search for survivors. Upon arriving, however, you come into contact with an unknown life form that feeds on humans. Can you unravel the mystery behind the creature and make it out alive?
■ Stealth Elements
・Listen closely to the terrifying life form's footsteps and groans to avoid coming face-to-face with it.
・Distract it by turning on alarms, or using fire extinguishers to cloud its vision.
・Hide yourself in shelters scattered throughout the space station.
■ Game Features
・Solve intricate puzzles to aid in your escape.
・Face the life form without any weapons, completely defenseless.
・Enjoy a streamlined gaming experience with a single ending.
・Influence the content of the end-game incident report and find out what really happened by checking computers around the space station.
・Resume your game progress with auto-save and manual save options.
■ Multiple Difficulty Settings
・Enjoy the game at every level of play with four different difficulty options. Unlock the challenging Expert Mode by finishing the game on Hard Mode.
・On Normal Mode, the game can be cleared in approximately two hours. With auto-save enabled, players can cut down on backtracking and get right back into the game. This mode is recommended for those who are new to horror games.
・On Casual Mode, the in-game map can be viewed at any time.
CASUAL Mode
・An easy mode for players unfamiliar with games. On Casual Mode, the enemy moves slowly and players can check the map at any time from the game menu.
NORMAL Mode
・A standard mode for players looking for a thrill.
HARD Mode
・For players looking for a higher level of tension. In this mode, players are unable to use fire extinguishers to distract the enemy.
EXPERT Mode
・For horror game enthusiasts. In this mode, the enemy is more aggressive and players are unable to use fire extinguishers to distract them.
■ Guidelines on uploading game content online
Individuals and businesses are free to upload gameplay videos of this game on social media or video streaming sites for commercial or non-commercial purposes.
High-quality images of the game are also available on our official website for use in online posts and videos.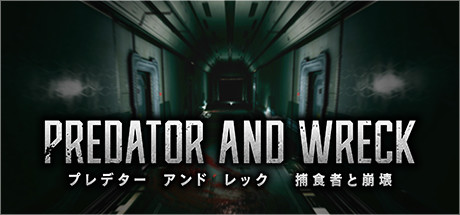 Title: PREDATOR AND WRECK
Genre: Action, Adventure, Indie
Developer:
Publisher:
Release Date: 18 May, 2022
PREDATOR AND WRECK Trailer
System Requirements
Minimum:

Requires a 64-bit processor and operating system
OS: Windows 10 64-bit
Processor: Intel Core i5
Memory: 8 GB RAM
Graphics: NVIDIA GTX 970
Storage: 3 GB available space
Recommended:

Requires a 64-bit processor and operating system
Free Download PREDATOR AND WRECK Game
Full Game, latest version. Download for Free!