Game: Party Party Time Free Download

It's time to get this party started! Endless fun in a bash everyone can join!
About This Game
A party game with simple controls anyone can enjoy!
Play with up to six players!
Experience a whole variety of intuitive, easy-to-play minigames.
Shoot each other with water guns, work together to complete a picture, and enjoy a variety of games!
Free Mode
Choose the game you want to play!
Party Mode
Play your chosen games in order
and compete for the most points!
*Controllers are required for multiplayer play.
Minigames:
– Get Ball
Push the ball to move it toward your goal.
– Cannon Shot
Move the crosshairs and hit the targets!
– Block Wiper
Use the wiper to move the blocks to your goal.
– Bomb Roulette
When you get a bomb, press the buttons to pass it to another player.
– Cannon Defense
Defeat robots to keep the castle walls safe.
– Attack Ball
Bump into other players to knock them off!
– Bumper Tanks
Attack other players to knock them off the screen.
– Scroll Jump
Move around without falling off of the floor!
– Climb! Block
Dodge the falling blocks while climbing.
– Matching Dots
Move the panels to complete the pixel art.
– Timing Stamp
Step on the line of light coming from the frame.
– Mole Hammer
Go after the mole and hit it with your hammer!
– Water Shooter
Shoot each other with your water guns and see who can drench the most people!
– Spinning Cube
Survive without falling off the rotating cube.
– Everybody GO!
Sync with your partner to reach the goal within the time limit.
– Survival Reversi
Aim for first place in turnless Reversi.
– Jump and Dodge
Jump to dodge the spinning bar!
– Block Train
Keep moving to avoid getting pushed off by the blocks.
– Skydive Scramble
Collect coins as you skydive!
– Catch and Pong
Catch the falling balls and put them in the box with the same color.
– Shooting Ball
Put balls in the basket and aim for the target number of points.
– Everybody Calculate!
Answer the set number of equations within the time limit.
– Jumping without falling
Jump onto the panel with the answer within the time limit.
– Block Changer
Change the blocks to get more blocks your own color!
– Perfect fit! Dice
Aim for the total value of the three die.
– It's Thataway!
Press the button indicated by the arrow!
– Slope Jumping
Jump to dodge the obstacles.
– Perfect Timer
Stop the timer at the displayed time.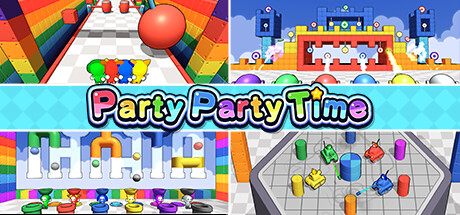 Title: Party Party Time
Developer:
Publisher:
Release Date: 11 Jan, 2023
Party Party Time Trailer
System Requirements
Minimum:

OS: Windows 7 or Newer
Processor: 2.0 GHz
Memory: 2 MB RAM
Graphics: NVIDIA GTX 260 or ATI 4850
DirectX: Version 9.0c
Storage: 300 MB available space
Additional Notes: Gamepad or Controller Recommended
Free Download Party Party Time Game
Full Game, latest version. Download for Free!