Game: maze to the old castle Free Download

Journey through various types of hedges-mazes, forests, tree-mazes, mountains, cave-maze, castle ruins, amids natural life and see if thee can reach the old castle. Maze to the old castle seeks to a-maze, relax, challenge as a oldschool casual logic path-finding maze-solving game.
About This Game
CRYENGINE-5.6.7 (graphics) engine – no laggy – fast-paced
the trailer – was made with (OBS+blender) with the minimal-system-requirements – amd-ryzen-2200G with on-cpu ryzen-vega-rx8 – at 720p-low/medium-settings – to show its still a good looking-game even at the lowest-settings, screenshots show its able to have the game look a lot better.
There is a old-legend from the dark-ages; about an illuminated-wizard-king who together with a group of illuminated-wizard-knights discovered esoteric-knowledge about the working of the brain-soul the sun and the 4th-dimension of time, their visionary-help-supportive-magic-influence over the other (non-illuminated-lost-undead)brains wasnt wanted and they where forced to retreat to hide-secure the knowledge for the future and set forth their enterprise – together using the knowledge envisioned fromout the minds eye – a hard to reach castle which whoever would try to reach the castle would have to become good-willed and illuminated-worthy, learning the first-lessons before joining their cause, by solving the mazes and finding the hidden paths.
According to historical-legend – at first medieval-kings started building castles and mazes primarely for security-defensive reasons which over time progressed to impress and a-maze their subjects and as proof of their worthyness and wise/illuminated-kingship, also to relax-train and give worthyness-proof for any willing knight/princess. maze to the old castle attempts to encompass all these aspects in the layout of the journey, mazes and castle just as in a historical-accurate-(bio)logic way but at a more varying-legendary-maze-game-scale and in that attempts to be the original classic-medieval-old-school-concept of a maze game and hereby aiming to achieve the same with any participant as old kings with their later castle/mazes.
illuminate-free brains from the identity-problems educated fromout misunderstanding of a modern-world with lasting-inherited means of holding power-influence of (extra-terrestial-bloodline)kings who kept much esoteric(-secret)-darkness and lost the old-ways of how the great-(extra-terrestial-bloodline)kings succeeded in ending the dark-ages, who brought about illumination-healthy-happyness and the (re-)new(ed) ways of current illuminated-brains with movies and games.
maze to the old castle offers – 8 big levels – each level includes various types of mazes/environments and hidden pathways to find representing hours and hours of gameplay amid more enviromental-effects natural-growth natural-sounds and animals then most other games.
maze to the old castle – is a casual old-school path-finding maze-solving game and at the same time: Seeks to a-maze – astonish – relax – destress – positivize – tests the participant on (bio-)logic-reasoning and memory and envisioning the mazes thereby seeking to illuminate the minds-eye, and attempts to be fun and challenging in a old-school-game way in finding the right pad exit-solution to the maze.
For each level – there is [TQ](time-quotient)-IQ-illumination-worthiness involved; if one doesn't on time – find the path / solve the maze – one ends up dwelling in darkness and has to use the flashlight and minds-eye even more (or wait till the sun rises again to illuminate the eyes).
The camera-mode of the game can also be changed into a third-person by simply pressing f1.(simply press 7 to hide flashlight)
Maze to the old castle attempts to have any variant/type of a maze that can be imagined – if one dislikes a maze / or ends up stuck – not a problem – one can select any level in the menu – and at the end of most levels, often come the types of mazes that most might want to skip.
The mazes dont have lots of lengthy dead ends but are divided in sections with multiple sections, varying types of mazes each level with different ways out of them in every level – becoming slowly more difficult – starting with the standard-hedges-maze's to prepare one with logic to eventually solve (foggy)forest-maze's.
various types of hedge-mazes,
various types of forests and various type's of path-finding,
various types of forest-tree-mazes,
wooden-plank maze,
various mountain and cave path-finding mazes,
various types of castle-wall and castle ruins mazes,
For those who ended up lost – in the maze of endless-strange-new-(school)-games – with lengthy-stories and manuals that try to explain the (type of) game – and are just looking for a challenging and relaxing-happy-fun-time and casual (medieval-)good-old-games-time experience – its as if thee just found (one of the) ways out. Worry no more – maze to the old castle – attempts to provide a yeoldendays-(medieval-)natural-old-school-simple-yet-challenging-game answer-cure to any experiencing this nowadays problem.
Can thee cure thyrself with – maze to the old castle – and reach the castle – or does thou need to dwell further and check out – every optional-way in the new-school-game-maze or continue reading whats more great-awesome-fun about; maze to the old castle.
maze to the old castle – is the king-sized-meal-maze-game among the happy-kid-sized-meals maze-games thats yet divived into happy-succeeded-got-further-sections to help one to stay happy and manage to succeed – with finding the hidden-pathways exits to the mazes/environments – who are not as easy to find as the average mcdonalds or burger king but they can be found through biological-reasoning and with the help of clues.
can thee handle such king-sized-maze-game and reach the castle – or does thou have to go through some expensive couple of hours happy-meal-games.
For those who are known with the book/movie-series: the maze runner – primarily the maze trials, liked/loved the concept as being tested by some complex-maze with some TQ-factor in which it gets dark, but more had the experience; there wasn't really a intelligence-maze-test and growing-becoming some illuminated-one about the maze by own (re-)search, the maze was simple-small with dead-ends(sections) instead of a getting a bit further every time journey – it lacked the old-school sense of – a-maze-ment – the maze was to much unnatural new-school(concrete), and there where those terrible grievers/some virus and other unhappy-making-depressive-events.
Maze to the old castle attempts to bring the maze/pathfinding-game-concept back to its relaxing classic-original-natural-medieval-old-school yeoldendays-origins in a TQ-IQ-test experience kind of way. Furthermore attempts to a-maze any participant and be an a-maze-ing maze/pathfinding-game about a-maze-ment in the original-medieval-rooted sense of those words. Alltogether aims to be unique-complex maze/forest/mountain-trials-game in the same way as how mazes/journey-quests where used in medieval-times.
In maze to the old castle one can mindless run through the mazes in hope to find the exit – but often more usage of the brain is needed – pausing to enjoy the natural-sounds and try to use memory-logic-thinking and the minds-eye in finding clues/hints can then better aid in finding the way out. Maze to the old castle isnt just challenging as – a maze-trials/pathfinding-game – in which one can proof to have one of the highest-TQ-IQ's and worthy of being some knight/princess able to find the hidden pathways solve the mazes and reach the castle of some king. The game – just as why they had a maze in the maze-runner-maze-trials – is primarily seeking to (natural-)relax any participant – as the publishers-motto – focus on having a happy-fun-time and make them realize a balance often works better.
how the flare-virus from the maze-runner-book-series is even more – about fearlfull-negative-irritational-tendency-of-the-brain(especially in the early-morning why everybody has curtains) to the suns-influence on the brain refusing-2-become-happy-illuminated/concious about the suns-influence – especially in the early morning more display unhappy-negative-irritational-undead-brain-squidward-like reactions as if its like dum-spongebob. And refuse to be helped-supported-saved by some happy-positive-brains first-lessons-game(story) to cure some from this spreading brain-virus-like-problem….
Can thee succeed (with having a positive-happy-fun-time) and grow-cure from the maze-trials, as in the story of the maze runner, or art thou already taken out by some refusing-to-become-illuminated/concious-flare-like-irritational-unhappy-undead-brain-virus.
Maze to the old castle is about a-maze-ment more then mindlessly running/fleeing away from unexpected scary disturbing potential game-over-moments – the game doesn't attempt to disturb one's happy-positive-good-karma-flow state of mind, the game more seeks to a-maze and astonish and illuminate-train one's memory/(bio-)logic-reasoning/minds-eye. Accompanied by relaxing nature sounds one should succeed in having fun in finding the simple-logic-solution-exit to the mazes and reach the old castle as how it was in old-school-games and require's one to think (bio)logic and memorize and use the minds-eye more then just checking out every pathway.
In the past they knew the greatness of a king by the complexity of his mazes and castle more then by the size of his mazes and castle, as the complexity of the mazes made sure many wouldn't even be able to reach the king without proving themselves illuminated-worthy enough. The maze and castle of this king however are both great in complexity and size, can thee reach the old castle – like ancient knights/princesses who have proven worthy, or will thee end up lost in the maze, dwelling in darkness instead of becoming amazed and illuminated and able to have a clear-memorized-picture from-out the minds-eye.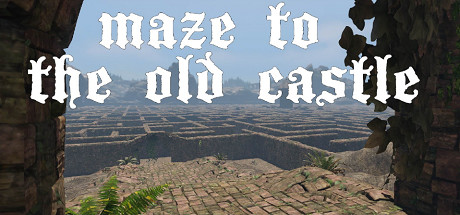 Title: maze to the old castle
Genre: Adventure, Casual, Indie
Developer:
Publisher:
Release Date: 12 Apr, 2022
maze to the old castle Trailer
System Requirements
Minimum:

Requires a 64-bit processor and operating system
OS: 64bit processor Windows 7/8/10 (64-bit OS required)
Processor: Intel Core i3 6100 / AMD FX 8350
Memory: 8 GB RAM
Graphics: GTX 660 2 Gb / Rx8 vega 2 Gb
DirectX: Version 11
Storage: 5 GB available space
Recommended:

Requires a 64-bit processor and operating system
OS: 64bit processor Windows 7/8/10 (64-bit OS required)
Processor: ryzen 3/intel i5
Memory: 12 GB RAM
Graphics: Nvidia GTX 970 / AMD Radeon RX 480 2gb
DirectX: Version 11
Storage: 5 GB available space
Free Download maze to the old castle Game
Full Game, latest version. Download for Free!