Game: KamiYaba: Destiny on a Dicey Deadline Free Download

"If you don't tie the knot with the person of your dreams within the next year, you'll be in big trouble." So forewarns Urara, the self-proclaimed Goddess of Matchmaking… kicking off a rowdy rom-com adventure!
About This Game
FEATURES
20+ hours of visual novel story
Three branching heroine routes
Full Japanese voice acting by seasoned professionals
A romantic comedy about a boy who almost manages to over-wish his way into a lonely future!
CHARACTERS


Nanami Nagumo (Voice: Ichigo Donari)
The Prime Minister's darling daughter
Skilled in both school and sports, Nanami is the perfect honors student.
As the daughter of a politician, she has been surrounded by the adult world ever since she was young. This taught her to be wary of how her actions affect how people look at her. Even at the worst of times, she never loses her composure.
Although she tries to hide it, she has a fondness for the cute things and sweet things that girls her age typically love, but she's so self-conscious about it that she wouldn't dare reveal that to anybody.
When it comes to romance, too, she's well-informed and twice as curious… and that runs in such contrast with her image that she won't admit it.
As you can see, she's not very open about herself.
Her high social status and stoic personality make her popular with masochistic guys, and even the girls, as well.
People always treat her with respect, careful never to be too loud and obnoxious around her, as a consequence of which she has become a bit of a loner.
She often spends her time on the school rooftop during her lunch breaks and after school. Everybody knows that's her territory, so only a few dare tread its 'sacred ground.' The rest of the students stay far away.
She's starting to get tired of all the special treatment…


Suzuna Akagi (Voice: Kokoro Moriya)
A top-ranking entertainment personality
Her specialties include cooking and making people forget their inhibitions.
With her friendly smile, her open-mindedness and her revitalizing words, Suzuna has a tight grasp on her adoring audience's hearts. While she has many fans at school, they all keep each other in check, meaning nobody can make a move on her.
She has such a bright and bubbly personality, you'd never think she was older. Working in entertainment has not tarnished her innocence. She's just a hard-working girl with no dark side whatsoever. People call her an angel, and even a miracle.
When it comes to romance, it's something she deeply yearns for, but feels it's not for her.
She reveres the concept of love so much that she can't allow herself to admit those feelings.
She's also the kind of girl whose face turns bright red at the very notion of a kiss.
As she's not comfortable with that kind of attention, she's never taken so much as a risqué modeling job in her entire career.
Suzuna is one of those few students who has breached the sacred ground of the rooftop.
As she is often away from school due to work, she went up to the rooftop completely unaware of its significance, which led her to meeting Nanami.
She is very insecure about her ability and her future…


Yukari Suo (Voice: Kanau)
Japan's greatest detective
A girl who is said to have helped the police crack many difficult cases in the past.
Unfortunately they haven't been requesting her help much in recent days, so things have been pretty mundane for her lately.
Yukari speaks casually to anybody, regardless of their age. She can be pretty sarcastic at times, but she has a good attitude and is easy to talk to.
However, her powers of observation are so sharp, they border on the level of a mind-reader. She's so accurately able to guess what people are thinking that people tend to keep their distance from her.
But she doesn't let that bother her, and spends her time immersing herself in the world of books.
Her abilities of deduction also extend to guessing the content of every test in advance, so she also has excellent grades.
She's the kind of girl who walks her own way, and doesn't let herself be constrained by anybody.
This too means she tends to struggle to get close to others.
She's aware of the sacred nature of the rooftop, but is one of the few who can stand upon its hallowed ground. She'll go there to observe Nanami and Suzuna, but mainly just spend her time reading.
She finds the place's strange alone-together atmosphere very interesting.
She's growing very tired of her peaceful everyday life…
STORY
"If you don't tie the knot with the person of your dreams within the next year, you'll be in big trouble."
So forewarns Urara, the self-proclaimed Goddess of Matchmaking, when she appears before our hero Hajime Kanbayashi. Hajime's your average youth, except that he's been a little bit too into love spells and love charms in his goal to get more popular with the ladies. And this time, according to Urara, it's this particular hobby of his that's the cause for his current predicament—just like eating too much of a good food can make you sick, each spell, however trivial and cute, can prove disastrous if overused. To make matters worse, it seems that some of the spells Hajime tried were the real deal! Thanks to this, the law of cause and effect has been thrown out of whack and his future is looking bleak…
"Well, to put it simply, you're going to be alone for the rest of your life."
"I want a girlfriend! I don't want to be alone forever! It's just… it seems like a lot of work."
Just as Hajime begins to despair, Urara teaches him about three candidates potentially written into his destiny along with their respective "destiny counts," which represent the distance he'll have to overcome to win their hearts. To further complicate things, each girl also comes with her own unique quirks.
Nanami Nagumo, the prime minister's daughter: 870,000,000 (870 million)
Suzuna Akagi, an idol: 15
Yukari Suo, Japan's no. 1 detective: 65,535
And so begins Hajime's race against time to defeat his karma and reverse Urara's prophecy…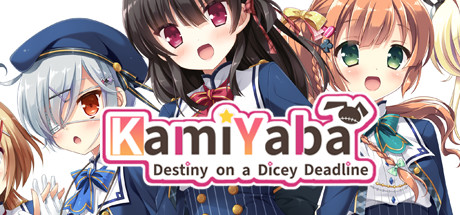 Title: KamiYaba: Destiny on a Dicey Deadline
Genre: Adventure
Developer:
Publisher:
Franchise:
Release Date: 27 Jan, 2022
KamiYaba: Destiny on a Dicey Deadline Trailer
System Requirements
Minimum:

OS: Windows Vista/ 7 / 8 / 10
Processor: Pentium3 1.0GHz
Memory: 1 GB RAM
Graphics: 1280×720 dpi support
Storage: 2 GB available space
Sound Card: PCM (DirectSound support)
Recommended:

OS: Windows Vista/ 7 / 8 / 10
Processor: Pentium4 2.0GHz
Memory: 2 GB RAM
Graphics: 1280×720 dpi support
Storage: 3 GB available space
Sound Card: PCM (DirectSound support)
Free Download KamiYaba: Destiny on a Dicey Deadline Game
Full Game, latest version. Download for Free!