Game: Glass Heart Free Download

A 20% chance is all you have to survive the surgery. Will love give you the strength to continue this life or will you be singing with the angels? The choice is yours.
About This Game
What would you do with one month left to live? Would you enjoy life to the fullest chasing after your passions and wildest dreams? Would you search for love and find solace in the arms of a gentleman?
Overview:
Glass Heart contains six love interests with two possible endings each. One of the love interests is an unlockable route so be sure to play through the game to find his route! Each route takes around three to five hours to complete, depending on your playthrough speed. Enjoy sweet and seductive epilogues for each of the guys, as well as some additional special features and surprises when completing each story.
Avoid potentially triggering scenes with our Safe Space option, available at the beginning of every New Game.
Revisit each and every illustration in the Memories page. As you play through the game, the illustrations will unlock and be stored in the Memories section of Glass Heart.
Our Extras page has many features, such as:
Chapter – unlocks as you play through each section of the game, making it easy to jump to any desired chapter that you wish to replay.
Music – Listen to Glass Heart's original soundtrack at your leisure in our Music page. This feature is only available when the game is running. The sound track is not downloadable from the game itself.
***Coming Soon: Movies – Short animated moments from each of the love interests. There will be a total of six (6) unlockable animated moments available for you to watch. – Some of which are currently available.***
Glass Heart is a romance visual novel made by Eternal Love Studios, LLC.
Character design and illustrations are by the highly talented artist Solry Le.
Compositions are from a team of talented individuals, namely, Michael Noble and Joshua Taipale.
Our cast of phenomenal voice actors features many talented individuals such as, Kieran Flitton, Griffin Puatu, Connor Miranda, Michael A. Zekas, Bradley Gareth, Patrick Mealey, and so many more.
Summary:
Meira (protagonist), the Glass Hearted Girl, has lived her life in hospital rooms. Years of fighting to survive has resulted in a bittersweet outcome. The surgery that could save her life only has a 20% chance of success. Failure means death. With one month until the operation, the Glass Hearted Girl sets out to experience something worth living for. Will she find the strength to survive or will her heart shatter?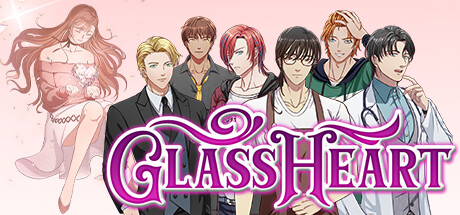 Title: Glass Heart
Genre: Simulation
Developer:
Publisher:
Release Date: 3 Feb, 2023
Glass Heart Trailer
System Requirements
Minimum:

OS: Windows XP or Greater
Processor: Intel Quad-core(4 core) 3.30 Ghz Processor
Memory: 8 GB RAM
Graphics: NVIDIA GeForce 6100
Storage: 4 GB available space
Free Download Glass Heart Game
Full Game, latest version. Download for Free!