Game: Dungeons of Dreadrock Free Download

An immersive puzzle dungeon adventure in the spirit of 1980's home computer games. Dig your way through 100 levels into the ancient depths of Dreadrock Mountain. Winner of Google Indie Games Festival / Indie Clash 1st prize / PocketGamer People's Choice Finalist / GDWC best indie game nominee.
About This Game
Dungeons of Dreadrock is an adventure game that includes action, exploration and fighting but mainly focuses on puzzles.
"Every year, a young boy is chosen to defeat the King of the Mountain." – only this time, it's your brother. After accompanying him to the Dead King's Gate and letting him enter on his own as advised… Well let's just say things go different from there than the Village Elders expected.
In order to reach the Dead King's crypt to save your brother from being sacrificed you'll need to solve puzzles, evade traps and fight a bunch of enemies. There are scrolls to decipher, levers to pull, floor plates to step on, fireballs to evade, doors to smash or to unlock, and a whole lot of enemies to kill. But while Zombies or Dread Beetles are easy prey, a lot of other creatures from Ogres to Dark Elves, Minotaurs and Dragons will require more than just brute force to be overcome.
Dungeons of Dreadrock basically takes the idea of oldschool first-person grid-based real-time Dungeon Crawlers (like Dungeon Master, Eye of the Beholder or Legend of Grimrock) and shifts the perspective to top-down. But what seems like a little twist results in a whole new (yet somewhat familiar) experience that was designed to be accessible for oldschool gamers and casual gamers alike.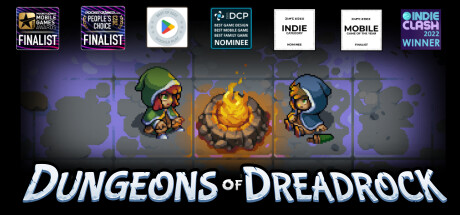 Title: Dungeons of Dreadrock
Genre: Adventure, Casual, Indie
Developer:
Publisher:
Release Date: Mar 14, 2022
Dungeons of Dreadrock Trailer
System Requirements
Minimum:

OS: Windows 7
Processor: 2,6 GHz Dual Core
Memory: 1 GB RAM
Recommended:

OS: Windows 10
Processor: I5 4 GHz
Memory: 1 GB RAM
Free Download Dungeons of Dreadrock Game
Full Game, latest version. Download for Free!