Game: Bricks Breaker | Uncatchable Homers Master Free Download

Uncatchable Homers, new 2D brick breaker game. Shoot enemies, kill invaders, destroy stubborn targets with astonishing powerups and weapons. Protect homers pigeons to fly safely. Destroy more bricks with full life for higher scores. This breakout arcade is a unique brick breaker close to realism.
About This Game
Brick Breaker Game !! What is it?
You are the ball, you are a soldier called for a duty facing stubborn targets who think they are Uncatchable.
The game is totally new idea of a 2D Brick Breaker game "originally called breakout" which is all full of fun specially in this astonished PC game where you need to break not just bricks but a bunch of targets and enemies. Military play style giving you action and a little bit of stress because it is a mix of shooting, breaking, destroying and fighting invaders using more than 25 Powerups and 10 major weapons. All of these powers made the playing of this game is a unique close to realism.
It is a war game with so many missions that you have to accomplish using a shooting killer ball. Easy or hard missions? This depends on the mode of your playing and of course the game challenges.
The free Demo version consists of 10 levels (the final version has 100 levels). Go SHOOT 'EM UP now.
The Mission:
With action and fun together, use the ball and bunch of weapons to destroy enemies. Let's find out who is the Uncatchable Homer! But, as a starter, enjoy the feeling that you are in a real war mission, all you need to do is to kill anything you face until you get to the last target. This target could be a brick, wall, ball, enemy, plane, monster, weapon, or a hidden things.
The name Homers goes back to the carrier pigeon that was used in wars for the purposes of secret correspondence, which in fact led to saving many human lives. And sometimes achieving actual victories.
Features:
One of the most interesting features in Uncatchable Homers game is that it will give you fun by enjoying the 3D sound effects and human voices which are the main reason to make you feel that you are on a real war. Other features are the many levels and puzzles beside using a great unique Powerups and Weapons to destroy enemies. These powers will help you accomplish missions.
We included a time limit missions to save these homers before getting catch by enemy. Please don't make them do that, save their lives and save the solders lives too.
Different levels with different skills needed to destroy targets, shooting and killing enemies. With all of that you will feel the life of solder in a real war mission with perfect skill of shooting and sniper killing. Some levels will give you the opportunity to shoot only one bullet. Make it a headshot.
Try the Demo version to find out some of great features.
What else?
If you like military and war games beside destroying objects with lots of fun and emotions, then this game is made for you. The more progress you make with finishing or accomplishing missions you will get new more Powerups and Weapons that can be easily use with only two mouse clicks. Some of the powers will start automatically when you collect them, this also will make you feel the power of a great army.
You can enjoy the hearing of the 3D sounds and voices if you are using good headphones, but also regular ones will do the job. We included so many human sounds which are actually the amazing part in this game. When you decide to replay the same level (to get a new high score for example), you will find new different voices every time you replay the level. Beside all of that, you will get great steam achievements by finishing some levels or breaking time limit missions.
Expected Full Release?
We are working hard to deliver the final version of this game by the June 2023. Some of the final touches in the design, sounds and modification of some levels to bring the greatest fun for you. If you love old school Atari breakout or brick breaker games, Arcade games, Arkanoid new video games, and shooting games with features of fighting with more than 70 enemies using punch of weapons, then standby for the upcoming game Uncatchable Homers Master.
Hope you enjoy the game, GOOD Luck.
UniMeta Games Website: http://www.unimetagames.com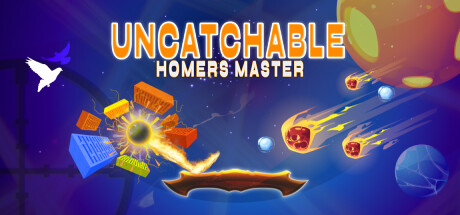 Title: Bricks Breaker | Uncatchable Homers Master
Developer:
Publisher:
Release Date: 5 Jul, 2023
Bricks Breaker | Uncatchable Homers Master Trailer
System Requirements
Minimum:

OS: Windows 10
Processor: Intel® Core™ i5-4460, AMD FX™-6300, or better
Memory: 4 MB RAM
Graphics: NVIDIA® GeForce® GTX 760 or AMD Radeon™ R7 260x with 2GB Video RAM, or better
DirectX: Version 11
Storage: 200 MB available space
Sound Card: Use best sound cards & headphone for 3D music and voices.
Additional Notes: Internet connection required for game activation. (Network connectivity uses Steam® developed by Valve® Corporation.)
Free Download Bricks Breaker | Uncatchable Homers Master Game
Full Game, latest version. Download for Free!