Game: Ainmora: The Impending Disaster Free Download

A captivating RPG with interesting mechanics and unique challenges that will make you think strategically as you admire the immersive history of Ainmora. Think about each choice. Explore carefully. Aziron, Kiarah, Roberit and many others await you in Ainmora.
About This Game
"Pay attention: in the beauty of triviality, life's treasures are hidden. Wise is the one who sees it without difficulty. Follow my story and confirm this truth."
Ainmora: The Impending Disaster is no longer your average RPG. It carries a profound message that attentive eyes won't miss anyway.
Aziron is an ordinary lumberjack, living an ordinary life just like you and me, until the day he receives a letter. Within everyday life, something capable of transforming everything can arise – without prior notice. A letter started Aziron's new life. This game can start something in your life today.
Ainmora is a world of a parallel dimension where humanity has divided into 5 large districts and several small villages. Each district has a culture and system of government. Despite the rich historical context, the focus of this story is to solve Kiarah's biggest obstacle that, not coincidentally, appears precisely in Aziron's trivial routine.
A letter, a prophet, a prediction, an illness, a political betrayal, an ambition. All points harmonize in the story of Ainmora: The Coming Disaster. It will be up to each player to feed the course of this simple adventure.
In Ainmora: The Impending Disaster you will find:
• 21 playable characters: interact, do business, gather people or use any other strategy to get new team members. Each character has a unique ability that can be used strategically on the battlefield.
• Strategic battles: the player will need to analyze the elements of each character and enemy in addition to the specific skills of each hero to find the best way to overcome the enemies that come along the way.
• Skill tree: access the Central dos Caminhos to improve your warriors according to the strategic line you want to follow (attack, defense, strength or life).
• Smart Enemies: Enemies in Ainmora are a bit unusual. They can also use items and abilities like the playable characters. It is valid to say that not all enemy actions will be brilliant… but who is infallible, right?
• Shops and clerks: some people love games with shops. In Ainmora, you'll be able to buy weapons, armor, and obligatory items to defeat certain enemies.
• Respect system: through interactions with the inhabitants of Ainmora, you can earn respect. Useful advantages will be released as your respect grows among the people.
• Game Modes: Want to play in easy, normal or impossible mode? It will say a lot about you. Choose your difficulty carefully, as the consequences can be too heavy.
• Optional quests: in addition to the main storyline, you can complete side quests during the game that, if completed, will add strength to the team during the adventure.
• Rental System: In this RPG, you can be a real master of the real estate market. In addition to wielding weapons well, you will need to be a good manager and financial investor.
• Many hidden areas: you are not required to explore Ainmora fully, but more experienced players will find it necessary to return to old places already visited to find new passages that will become available after learning of new bodily abilities such as: digging, swimming, far jumping, climbing and mental shielding.
• 5 possible endings: the ending of your journey in Ainmora will depend on your personality and your opinions. There are political and social problems in Ainmora that cannot be ignored. Your interactions and your dedication will enact the future of Ainmora.
Live this fun and passionate experience while absorbing the profound teachings that this game can promote in your life.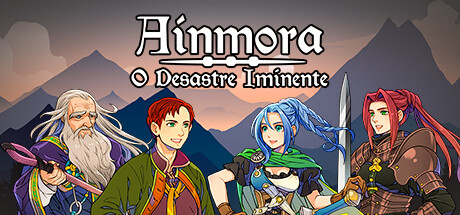 Title: Ainmora: The Impending Disaster
Developer:
Publisher:
Release Date: 29 Mar, 2023
Early Access Release Date: 29 Mar, 2023
Ainmora: The Impending Disaster Trailer
System Requirements
Minimum:

Requires a 64-bit processor and operating system
OS: Microsoft Windows® 8.1/10 (64bit)
Processor: Intel Core i3-4340 or better
Memory: 4 GB RAM
Graphics: Intel HD Graphics 620 or better
Storage: 550 MB available space
Additional Notes: 1280×768 or better Display
Recommended:

Requires a 64-bit processor and operating system
Free Download Ainmora: The Impending Disaster Game
Full Game, latest version. Download for Free!