Game: 1 Day Later: Escape Zombie Hospital Free Download

Escape the hospital full of zombies in stealth action game. Funny top-down single-player puzzle. Cool story included 😉
About This Game
You woke up in a hospital ward in the middle of a zombie apocalypse. Your task is to survive the first day and get out of the zombie hospital. Use your uninfected superior mind and fool rotten-brain zombies. Stealth mode is your primary weapon.
Key Features:
3D Top-Down hardcore zombie stealth game.
Run away from zombies, fight them, distract throwing cans, fool them switching light, barricade doors – there are always many ways to go through the level .
Explore dark levels with different lighting.
A thrilling storyline, multiple characters to play.
To go through level, you need to find key and get to exit door.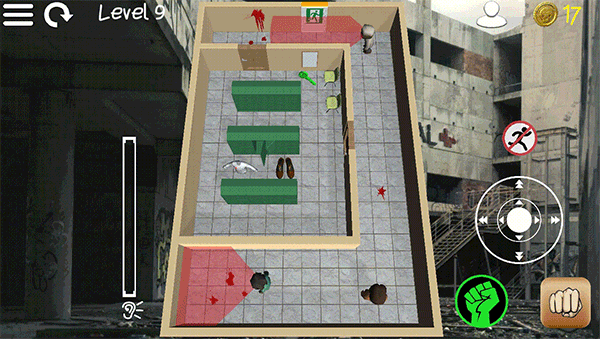 This is usually not so easy! 🙂
IMPORTANT:
This is a puzzle game, not Kill 'Em All, weapons added just to give player a chance to free himself when he made an error. Every level can be completed without fighting (see Walkthroughs on Youtube), player just need to think a little and try the alternative way. Every level can be completed in many ways – throwing cans, switch on/off light, drive zombie to food, etc. In few levels zombie have the key and you need to kill him, but his health reduced to make kill easy.
Hints:
1) Standard hearing radius of zombie is equal to the distance to which the zombie sees. This value is multiplied by the noise volume that you produced = whether zombie will hear you or not. Noise volume can be determined intuitively or on the noise bar on the left. For example, when running in flip-flops, the volume is 1.1. When walking – 0.55. Running in sneakers – 0.9, walking – 0.45. Gunshot noise volume of shotgun is 5.0, revolver – 4.0, with a silencer 1.66 and 1.33 accordingly. The volume of moving furniture depends on its size and weight. Well and so on.
2) All zombies have the following states:
– Patrolling hunting territory, which he considers his own, on the repeating route (slow walking);
– Wandering without a goal (slow walking);
– Moving to the place of the heard sound, to check what it was (walking);
– Chasing the prey when the zombie sees it (running);
– Moving to food if the zombie sees it and he is hungry (walking);
– The process of devouring food (on the spot, seeing and hearing radius decreases greatly);
– Hibernation (just stands still). All zombies in the dark hibernate, if the zombie does not have some light, e.g. a flashlight on the helmet (but they see player's flashlight and still go to sounds!). Occasionally, some zombies hibernate even in the light, if their brain is too damaged;
– Attacking human or obstacle – door or furniture;
– Temporarily knocked down by heavy hit;
– Died, again, but now forever 🙂
Title: 1 Day Later: Escape Zombie Hospital
Developer:
Publisher:
Release Date: 2 Dec, 2022
1 Day Later: Escape Zombie Hospital Trailer
System Requirements
Minimum:

OS: Windows 7 32-bit
Processor: 2GHz
Memory: 4 GB RAM
Graphics: Any
Storage: 300 MB available space
Free Download 1 Day Later: Escape Zombie Hospital Game
Full Game, latest version. Download for Free!