Game: 暴れん坊天狗 & ZOMBIE NATION Free Download

An EXCITENGU side-scrolling shooter game to bring peace through destruction, with 2 titles x 2 modes, and useful features like Rewind and Quick Save!
About This Game
In it, an evil alien creature uses strange magnetic rays to turn a helpless nation into zombies.
These rays have given him control over a certain giant statue and other deadly weapons.
Namakubi, head of the samurai, sets off to save the people and reclaim the legendary sword that has fallen into the hands of evil.
This set also comes with Zombie Nation, the North American edition of Abarenbo Tengu released in 1991.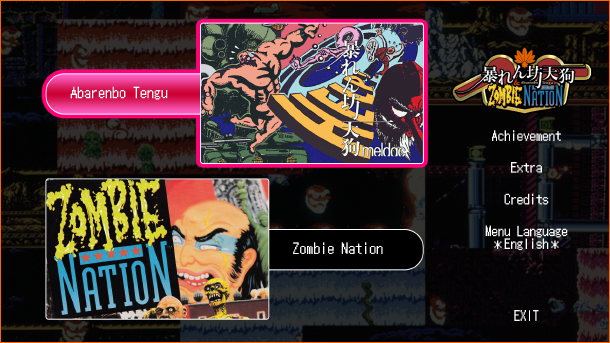 Select either Abarenbo Tengu or Zombie Nation from the title screen



There are two modes to choose from in both Abarenbo Tengu and Zombie Nation. You can choose between PETENGU Mode and EXCITENGU Mode in Abarembo Tengu, and ZOMBIE Mode and SAMURAI Mode in Zombie Nation.
※Default will be set with PETENGU and ZOMBIE Mode
PETENGU Mode / ZOMBIE Mode
In this mode, you can play with useful functions such as Rewind, Quick Save, Quick Load, and Rapid-Fire. Clearing all rounds unlocks the Special mode.
EXCITENGU Mode / SAMURAI Mode
This is a mode that allows you to play in the same way as the original. Although you can only use Accessories for useful features, you can challenge for achievements. You can test the results of your practice in PETENGU Mode and ZOMBIE Mode, clear all rounds, and unlock achievements.
※This mode cannot the used in the Special mode



You can rewind to the desired point in the gameplay by pressing the rewind button


You can save and load at any part of the game. Abarenbo Tengu and Zombie Nation each have 3 save slots.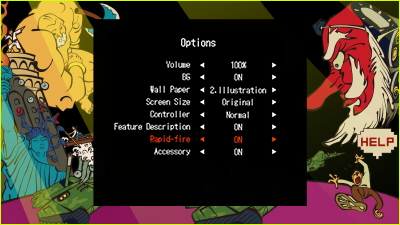 You can set ON/OFF of the Rapid-Fire function in Abarenbo Tengu in the options screen. ※ Zombie Nation included this function in the original game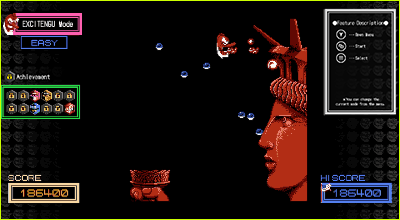 You can show the mode, difficulty(EASY / HARD), scores and also high scores on the screen. In the EXCITENGU and SAMURAI modes, you can check your achievements as well.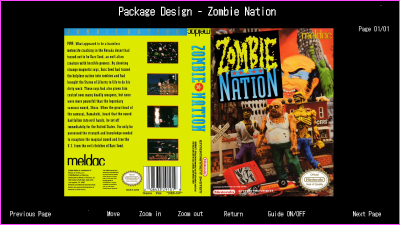 You can view this from the title screen. You can view original designs such as packaging and posters
※You can view the manual for each game through the menu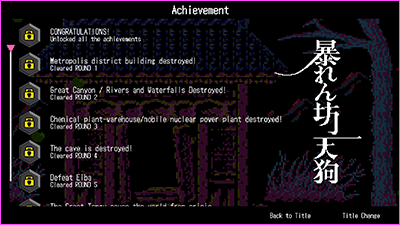 You can view achievements from the title screen. You can see achievements you can challenge in the EXCITENGU and SAMURAI modes. By using the Accessory function, you can check what you have obtained during gameplay.


Special unlocks when you clear all rounds in the PETENGU or ZOMBIE modes and you will be able to select it from the menu for each game. You'll be able to play "that mode" where you can play with the hidden command.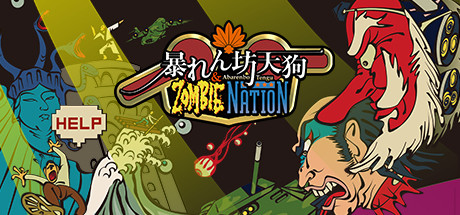 Title: 暴れん坊天狗 & ZOMBIE NATION
Genre: Action
Developer:
Publisher:
Release Date: 27 Oct, 2021
暴れん坊天狗 & ZOMBIE NATION Trailer
System Requirements
Minimum:

OS: Windows 10
Processor: Core i5 1.7GHz
Memory: 4 GB RAM
Graphics: Intel HD Graphics 4000
Storage: 300 MB available space
Free Download 暴れん坊天狗 & ZOMBIE NATION Game
Full Game, latest version. Download for Free!